Who we are
We are a dynamic community of local fibre enthusiasts who work, play, and create with fibre to make beautiful things.
While most Guild members weave or spin, many also share diverse but allied interests, such as dyeing, basketry, knitting, felting and needle felting, braiding, beading, tatting, and bobbin lace making.
Get to know us! Like us on Facebook to get our latest news and info of interest to fibre-based handcrafters.
What we do
Together we collaborate to
awaken public interest in and an appreciation of handweaving, spinning, and related crafts
encourage participation in fibre-based handcrafts, especially handweaving and spinning
help improve the skill and artistry of local handcrafters
exhibit and sell items created by Guild members
showcase our members' talents at annual juried shows
Why join?
Guild membership is a good investment of your time and money. We believe the benefits far outweigh the costs – and we're sure you will agree.
What you need to know about costs
BHS Guild members pay an annual membership fee every January: $40 (2016-17)
Additionally, all Guild members must be Art Gallery of Burlington members. ABG visitors pay for parking on site and on surrounding streets.
BHS members are expected to get involved. There are plenty of fun and interesting events held during the year that need volunteer help, and teams and committees with opportunities to contribute to the local arts and culture scene. Read the guild newsletter
Real benefits
BHS members enjoy
monthly meeting programs that feature a guest speaker, slide show, demonstrations, hands-on activity, or an idea exchange. Along with topical programs, meetings also have a social and business portion.
workshops on high interest topics relating to spinning, weaving, and dyeing that are held several times year
study groups that meet during Open Studio times to explore chosen topics on an ongoing basis
low cost rental of studio looms, table looms, spinning wheels, and assorted equipment
borrowing items from our comprehensive library of books (many out of print editions), topical magazines, and instructional DVDs
an enriching, stimulating, and fun environment packed with creative energy and fellowship where they can fully explore their chosen craft
Come and experience the Guild at our next meeting – visitors are always welcome.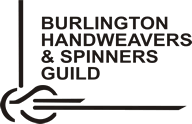 Save